I'm willing to bet money that I am one of the few San Franciscans to attend both the reggae concert/activist event "Power to the Peaceful" in Golden Gate Park yesterday, and the free San Francisco Opera concert in a different corner of the park today. What can I say, I like to keep it eclectic.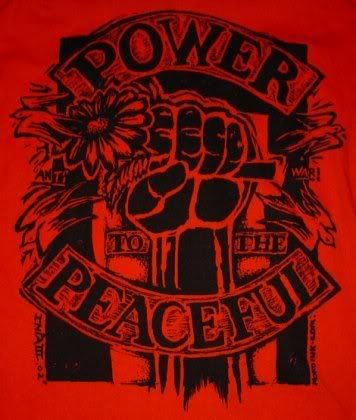 I don't think I would've gone to Power to the Peaceful if my new housemate hadn't invited me. I like reggae music all right, but don't think I'll ever really get into the "scene." After hearing a few mellow songs about how "we are all one" and "love is my religion," I start thinking "OK, now I want some music about angst and passion and despair!" (Which explains why opera is more my speed.)
We heard Ziggy Marley sing, then Michael Franti and Spearhead. Before singing "No Woman, No Cry," Ziggy proclaimed "This is for all da women out there in da struggle... I love women, I respect women, I treat dem right." This confused me, because I had always thought that this song was misogynistic, the title meaning something like "Women will always make you cry, so if you don't have a woman, you won't cry." But I hadn't been listening to it carefully, and the real meaning is "No, Woman, Don't Cry." Obviously I like that a lot better.
The event was packed with the SF hippies I expected to see there. On the bus I actually stood next to a girl who had the Haight-Ashbury street signs tattooed on her inner wrist. "Dear Lord, I hope that's fake," I thought. "She is going to regret that." At the event lots of booths sold tie-dye and jewelry and promoting activist causes. One prominent booth advocated "Free Mumia," which amused me, since I've been rereading
A Heartbreaking Work of Staggering Genius
and Dave Eggers talks about seeing "Free Mumia" signs in mid-1990s San Francisco. So it's over 10 years later and the city hasn't changed.
The crowd was mostly young--a few aging hippies, but many more families with small children. Despite being born to peace-loving parents, these little kids seemed to prove that violence is inherent in human nature. Give them pretty peacock feathers, and in no time at all they'll use them to sword-fight. Ignore them for two minutes as you bop to the reggae beat and they'll be knocking each other down and crying about it.
I dodged more hippies in Haight-Ashbury on my way to
Opera in the Park
, which attracted a crowd that was mixed in age but self-consciously "cultured"--bottles of wine and Whole Foods olives. There were fewer children than at Power to the Peaceful, but they were better-behaved--so much for the stereotype that kids hate opera.
The event began with the national anthem. I stood and sang, but the guy behind me remained seated and when it was over, shouted "Long Live the War Empire!" People like that--who want to make everyone around them feel guilty when it's not appropriate--really annoy me. Besides, as the emcee said in his opening remarks, this was a time to forget politics and just enjoy beautiful music (though he couldn't resist joking that the Sarah Palin baby drama might make a good opera).
Instead of playing an opera overture, the orchestra performed a lively selection from the film score to
Captain Blood
--composed by Erich Wolfgang Korngold, whose opera
Die Tote Stadt
is in the SF Opera season. And the highlight of the concert was when the
Die Tote Stadt
stars, Emily Magee and Torsten Kerl, previewed "Glück, das mir verblieb." Before today, I had only heard this beautiful piece as a soprano solo, not with the tenor joining in. And the harmonies that Korngold wrote for the two singers take it to another level. Though it requires two very powerful voices (Magee and Kerl later sang Wagner selections), its lyrical melody is the #1 antidote to the popular idea of German opera as all about loud declamation. It did its job in convincing me that I must see the full
Die Tote Stadt
production!
The Figaro-Rosina duet "Dunque io son" also went over very well, with singers Daniela Mack and Lucas Meachem hamming it up in charming style. Previously, Mack had opened the concert (after
Captain Blood
) singing Cherubino's "Non so piu." Not sure that this was the best choice. It has absolutely no orchestral introduction for the singer to get acclimated to the stage, and Mack sounded tense and nervous throughout the first half of the aria--more nervous than even the horny-and-excited Cherubino is supposed to sound.
The first act ended with an aria from an opera that I had never even heard of: "Ozean, du ungeheuer!" from
Oberon
(Carl Maria von Weber, 1826). The title translates to "Ocean, you mighty monster!" and it is sung by a shipwrecked woman, so I was expecting something dramatic and ferocious--the female equivalent to "Fuor del mar" perhaps. But soprano Heidi Melton made it sound more like a sad lament--perhaps the tempo was too slow? (Go
here
for a fiercer rendition.) In Act Two, Melton performed a lovely "Vissi d'arte," and Tamara Wapinsky followed with another Puccini favorite, "Musetta's Waltz." However I did not think Wapinsky's voice was lush and seductive enough for Musetta.
At this concert, I learned that there is almost nothing so thrilling as being in a crowd of people watching a young, unknown tenor tackle "Ah, mes amis." I mean, it's wonderful to listen to Pavarotti or Juan Diego Flórez perform it--but we
know
that they can hit the nine high C's. Alek Shrader, however, is an unfamiliar quantity, and you could feel the crowd holding their breath and pulling for him. Shrader's high C's were not rich, perhaps, but he hit them solidly and without falsetto. And his French pronunciation was better than Flórez's (who has the annoying habit of singing "J'y sa flamme" instead of "J'ai sa flamme").
The traditional ending to this concert is an audience-participation "Libiamo ne'lieti calici." Mr. Irritating behind me decided that he was going to sing as loud as possible--it felt as though he were making fun of the concert he'd just seen as opposed to appreciating it--
and
he rushed the tempo. Still, the crowd had so much fun that we encored it, and I sang along, discovering that I have not completely lost all my high notes (and getting some compliments for it). Singing in public is so rarely socially acceptable that one ought to take advantage of it whenever possible.
Power to the Peaceful poster from their myspace page. Image of Kerl and Magee from the San Francisco Chronicle.